Crystale Dishwasher Products
Crystale clear results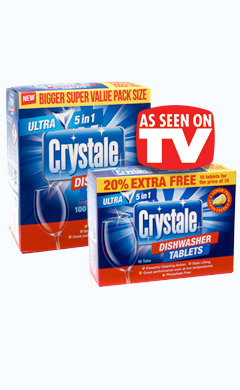 Crystale Dishwasher Tablets - Ultra Five in One
Crystale Dishwasher Tablets – Ultra Five in One have been developed using modern technology to create a powerful cleaning product which will lift stubborn stains and leave your dishes Crystale clean.
With the triple layer power, Crystale Dishwasher Tablets – Ultra Five in One efficiently removes the most stubborn dirt and sediments and combines polishing, cleaning and softening agents to leave your dishes clean and shining.
Water Softening
Great performance even at low temperatures
Removes stains, fat, stubborn dirt, tea and coffee sediments
Polishes dishes to leave them crystal clear
Protects glass and prevents misting
Protects metal dishes and cutlery from corrosion
Protects the dishwasher
Watch Video Advert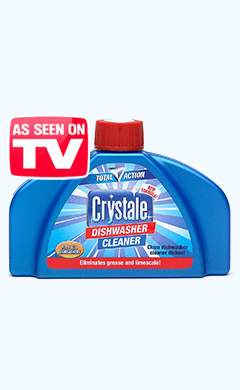 Crystale Total Action Dishwasher Cleaner
Crystal Total Action Dishwasher Cleaner cleans and freshens even those hidden parts of your dishwasher, removing any build-up of grease and limescale. Once opened, the liquid can even be used neat on a cloth to wipe around the rubber door seal. Keeping your dishwasher clean can increase its performance and prolong the life of your appliance.
Available in 250 ml bottles.
Watch Video Advert

Crystale Total Action Rinse Aid
Crystale Total Action Rinse Aid leaves your dishes with a crystal shine. The special formula with Drying Accelerator, makes sure dishes are thoroughly dry during the rinse cycles of your dishwasher, preventing those unsightly calcium spots or streaks being left on your glassware.
Helps prevent calcium spots and streaks
Protects metal against tarnishing
Removes food and detergent residue
Perfume free
Available in 500 ml bottles
Watch Video Advert

Crystale Dishwasher Salt
Crystale Dishwasher Salt for Dishwashers and Water Softeners is the purest dishwasher salt on the market and ideal for both dishwashers and water softeners. Keeping your dishwasher's salt reservoir topped up with salt will aid water softening and helps avoid limescale marks on your glassware and limescale build-up in your machine, prolonging its life and improving its performance.
Refined high quality salt for maximum effectiveness
Longer lasting larger granules
Better cleaning performance
Protects your dishes against limescale marks
Water softening
Protects your machine
Contains no additives
Eco-friendly sourcing
99.8% pure
Follow your dishwasher manufacturer's instructions.
For best results use in conjunction with Crystale Rinse Aid and Crystale Dishwasher Tablets.
Available in 2kg bags.
Watch Video Advert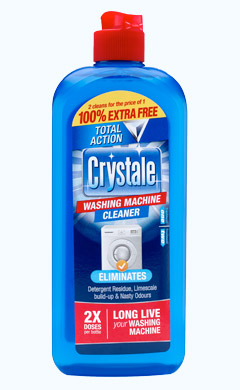 Crystale Washing Machine Cleaner
Crystale Washing Machine Cleaner can help to protect against machine malfunctions and breakdowns by removing dirt, detergent residue and lime scale build-up from both the visible and hidden parts such as pipes and heating elements.
Available in 500 ml bottles.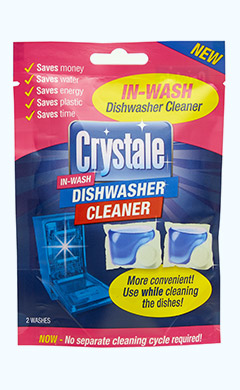 Crystale In Wash Dishwasher Cleaner
Crystale in wash Dishwasher Cleaner is a handy, simple and convenient way of keeping your dishwasher clean. This means you no longer have to do a spate cycle to clean it, this will save – time, money, energy and water.
Eliminates grease and limescale
Cleans unseen parts
Prolongs life of dishwasher
Use with dishes in
Safe and effective